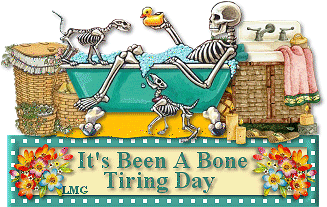 Indeed it has been a very tiring day! I have been busy doing some cleaning and straightening up here in our humble abode....hay....so what did I do???
I was finally able to clean the computer room which became our 'dump' room during the move. It's where all the bags, boxes etc that are not part of the basic necessities plus the 2 computers we have, were dumped. Needless to say, it's like a tornado wheezed through that room.
This weekend, the husband finally got one of the computer tables from the other house. He just put it in the middle of the room, in the middle of all the messsss.....He was pretty tired moving a lot of big stuff that's why. So today I finally decided to get in there and tackle the job. Now, all we have on the floor are the computers -cpus, monitors, scanners and printers. Yeah! It's up to the husband to assemble everything. I don't want to mess with them...with all the cables coming out them?? No way!!
Next in my agenda was the little one's room. What can I say...it's the room of a 6-year old who likes to cut and is a "hoarder"...of empty boxes and other trash. The middle of her room is almost always free of mess and so is her bed. The mess is all on the side and in her closet. She loves to 'help' but her helping is more like going through the 'trash' and telling me that she wants to keep this and that...
I was also able to clean the sliding doors, inside and out! Yeah! That was tiring! I worked up a sweat doing that. So that's going to be my 'exercise' for the week...LOL! So after writing this entry, this would be me!

I'll have to do some 'paid work' a bit later as I have to put in some hours...to impress the boss, of course. But that can wait...I told her I'm doing some maintenance on my computer so I'm free for a few more hours.

Thanks to all who came by. I'll try and visit you all later! Hope everyone's having a great week so far!