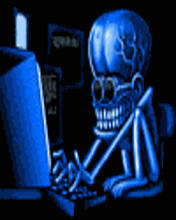 That's me this week. I have not done any decent hopping the whole week. Work has been crazy for the past few days. I have to pick my pace to keep up with it.

It's bit cloudy here. It seems that big 'ole Ike is making its presence felt around here. It's one big hurricane but we're hoping it will lose strength as it makes its way in the US soil.

Gotta go for now. I told the little one she can bike before she starts with her school work. She hasn't been biking for weeks so it's time to let her push those pedals again...or she might start getting all scared of getting on her bike again.

Ciao everyone...see you around.