Rotary Phone...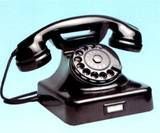 This is one of the little one's item in her Christmas list. We already got most of what she wants. They are all easy to find and not too expensive either. But this one? I have searched the internet, wait that's wrong, WE - both my husband and I searched the net but we can't find one that is at a reasonable price. The cheapest I've seen is $50 + shipping! There is one that's in eBay and the starting bid is
$10,000
!!!! Yes,
10 thousand dollars
. Hmmm...maybe I can start bidding now, eh?
So what's left to do? I am seriously considering this...