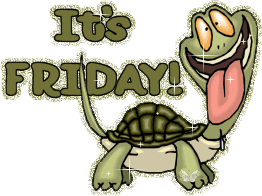 Need I say more? I'm sure I'm not the only one waiting for Fridays. Or am I? It just seems we live for Fridays and the weekends. Am I right or am I right?
Yesterday was another day at the doctor for yours truly. It's with the ophthalmologist this time. Honestly, I don't understand why I still have to see him since we already know what 'possibly' caused my left eyelid to retract....hyperthyroidism...and my eye is getting better already. I thought my visit was just a follow-up to make sure my eye is really getting better. Guess what? The doctor has some other theory. My eye problem MAY NOT get better even if my thyroid problem gets fixed. Why? Because I may have what is known as
Thyroid Eye Disease
or TED. Ugh! So, I am scheduled to see him again in 4 months time. I'm just glad that my eye problem was caught early on. From what I've been reading, this disease is often misdiagnosed to something else which can result to more serious problems.
Anyway, we also asked him about the little one. We're getting worried because she gets headaches quite a bit. It usually starts with her complaining about her eyes then it goes to headaches which can sometimes make her throw up. The doctor said that he doesn't usually see children [he normally recommends a pediatric ophthalmologist] but he made an exception and opted to see the little one in a couple of weeks. Why did he agree to see her? Because she seems mature enough. Great, eh?
This weekend, we're planting some trees. Hubby bought a few of this:
This is a
bottlebrush tree or Callistemon
. We're going to plant them around the property so we need about 10 of them. Hubby got 6 already so we need 4 more. Busy weekend for us....if it doesn't rain, of course. It's pouring right now actually. Sigh...