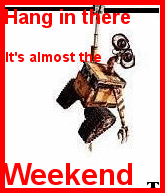 This is what I keep telling myself...tee hee. I'm extra tired this week and I have no idea why. Well, maybe I do. It's that time of the month again, if you know what I mean.
Anything planned for the weekend? No here. We don't usually plan anything for the weekend unless we need to. Last weekend we thought of taking the little one bowling but we weren't able to. The reason....rain! It was dark for the most part of the day so we decided not to head out. Maybe this weekend we can do that. We're not telling the little one because she won't rest until it's done.
We still have 2 full days of work before the weekend hits so I better start doing something that translates to moolah. In the meantime, enjoy your day. Ciao!