Tired!
~~~~~~~~~~~~~~~~~~~~~~~~~~~~~~~

Like sleepy tired as well as tired 'tired'. Does that make sense? Anyway, I just finished my daily elliptical 'work out' a few minutes ago and my legs are a bit umm...yeah, tired. LOL. I've been on my 4th week and I'm starting to look forward to it. It's still a bit hard to get on it but I try to force myself first thing in the morning - as much as possible to get it out of the way - but sometimes I have other things to do in the morning like today so I do it late in the afternoon.

Anyway, it's finally Friday! That can only mean one thing.....the weekend is just a sleep away. It's been cold and soggy this week so I'm looking forward to at least a rain-free weekend. It will still be bit cold but as long as the rain stays at bay....then I'll be a happy camper. As usual we don't have any concrete plans for the weekend. We may or may not head out some time over the weekend but definitely not tomorrow because we have an appointment with someone to come here and do some measurements. So maybe on Sunday we can go somewhere to pass the time...or maybe we'll do that at home. Whichever way it goes....I'll be happy.
To one and all....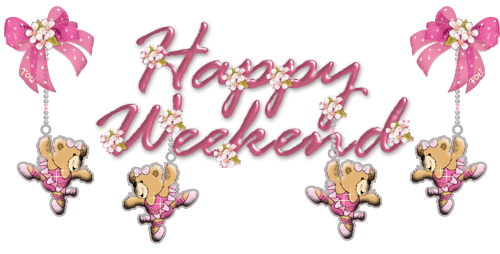 glitter-graphics.com