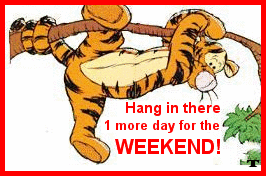 I know you can do it. It's TGIF and that alone is reason enough to celebrate! Right?

Anything planned for the weekend? Here...nope. One thing is for sure though...we will have a GORGEOUS weather throughout the weekend unless mother nature decides to change her mind...which I'm hoping she won't.

It will be a great day just to sit on the back porch watching the birds fly by and the squirrels chase each other. I'm sure the little one will be spending a lot of time on her swing as well.

Enjoy your weekend everyone!