I originally planned in doing nothing but bum around the house this weekend but I found myself doing otherwise. Our garage is slowly getting all cluttered up especially with the latest project...the flower beds. At first I just planned in moving stuff around but I ended up doing more than that. I'm not done yet so I might spend some time tomorrow tinkering some more in there.
I won't be the only working though because hubby's working through the weekend as well. It's something they need to do to get caught up with work so he has no choice. The little one is not thrilled about that but she knows why so she's good with it. She's spending her weekend tinkering with the gifts she got on her birthday. She already started making some 'jewelry' so she's also 'busy'. I don't let her do those on the weekdays so she only has the weekend to play with them.
Anyway, I also have to do some work later on because of some deadlines. I don't want to get in trouble with the boss so I better do my share, eh? In the meantime...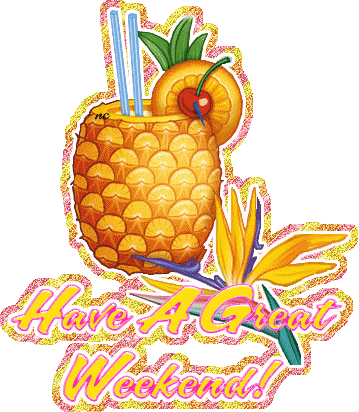 glitter-graphics.com