I used to get really excited when Wednesday comes rolling in. Sadly, I haven't had the chance to be that excited because of the busy schedule I've been having in the last few months. My schedule is not as crazy as it was a few weeks ago so now I have the time to get all excited about "Wednesdays"....AGAIN...woot!
Work is still busy but we're not behind schedule anymore...at least none that I know of anyway. Our boss said that we've been beating deadlines so she's very appreciative of that. I think we finally got into the groove of the situation so our production has been steady which means we can somehow 'relax' a bit which I'm doing right now by blogging.
At the moment, we're having a gloomy day in our neck of the woods. The temperature is still in the mid-80s but it doesn't feel as bad because Mr. Sun is hiding behind the clouds. Rain will be here soon which is good especially for the few plants that we have. I haven't watered them in weeks because of the rain that falls regularly. I guess that's another reason why I have some free time as well...hmmm...
Anywhoooo...I'm signing off here for now. Like I said, work is still waiting so I have to get to it at one time or another. The sooner I get to it...the better...so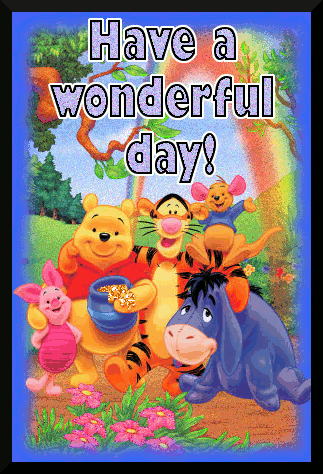 glitter-graphics.com