Since it's Thanksgiving on Thursday, it will be a short 'work' week for most of us in this part of the world. A lot of people are actually on the road already on their way to visit family across the country to spend Thanksgiving together. As for us, we'll be staying put. We're going to spend Thanksgiving in our humble abode with just the three of us. That's the way it's been for the last several years because it's how we prefer it. It was only during my first few years here that we actually celebrated Thanksgiving with hub's family. We still get intouch with them [well, mostly him] on the day itself but only via phone...and that's the way he prefers it. Long chats on the phone while lounging in the comfort of home. Maybe in the future we will be spending this day with his relatives again...we just don't know when.
Anyway, we have everything we need for big day. The bird is 'chilaxin' in the fridge all thawed out waiting on me. I have to put it in a brine overnight to prepare it for its big day. I'll roast it tomorrow instead of doing it on Thanksgiving day itself because that's how we like it...a day old roasted bird. Ha! On Thanksgiving day itself, we usually make the traditional pumpkin pie together in our tiny kitchen. The little one likes to help make the pie so we let her do the mixing. While she's doing that, I'll be making the other side dishes that I have yet to decide on. It will probably be the usual masked potatoes with gravy, some deviled eggs, dinner rolls and whatever the husband thinks of making. He usually comes up with last minute ideas that he adds in the mix. It's just the 3 of us so we don't really need anything fancy. As it is, that's already a lot of food for just the 3 of us....but it's Thanksgiving so...
That's how our Thanksgiving usually goes. The three of us being thankful for having each other and for all the blessings we've been given....
So from our home to yours...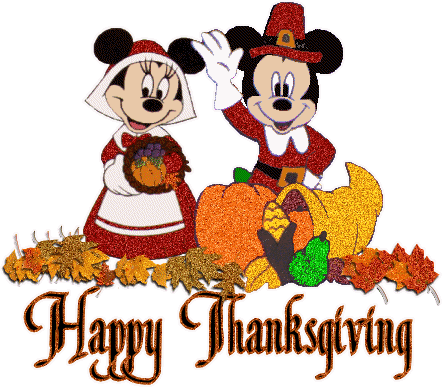 glitter-graphics.com