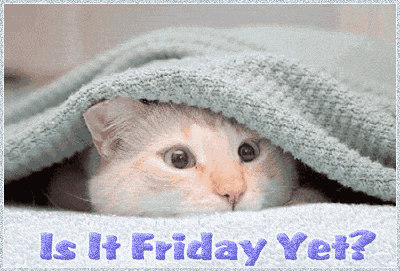 Hey...it's the cat asking, not me! Or is it? Ha!
Actually, days have been flying us by. I'm trying to take it easy and not worry as much. I guess that helps to make the days go by fast, doncha think? I know so because when all I do is worry, it seems days are dragging. Tell me it's not the same with you.
Anyway, I've been trying to keep busy with things. Work is still not as busy as we'd like it to be but it's better than before. We get some every and then and we're happy with that. Aside from work, I keep myself busy with other things. I walk around the yard just looking at our few flowering plants that have started to show their beautiful creation. I posted a couple a few days ago so I thought I'd post a couple more.
The one up top is an Asiatic Lily which is like a hidden gem in our flower bed in front. They don't grow tall so they're covered by the other plants. I had to push the other plants aside just to get a better picture of it. I like the flowers a lot because they're colorful. The one at the bottom is our Gardenia [Rosal in the Philippines]. This one smells really good that's why I like it. Well, and it's pretty of course. It's one of the very first flowering plants we got. It was originally on the flower bed in front but it wasn't thriving there. It only had flowers right after we brought it home. After that, it would have buds but they fell off before they could bloom. Hubby moved it on the backyard and for the first time since the transplant, it has flowers again....and that's the first one so I took a snap of it right away. It still has quite a few buds on it and I'm hoping they'll bloom as well.
That's basically how life's been here. Just enjoying the nice weather that we're having lately. I'm hoping it continues to be this pleasant at least during the Spring. I'm crossing my fingers that summer won't take over until the very last minute...say maybe June 21?