You with me when I say...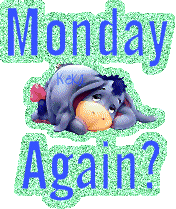 I bet you are, eh? But Mondays come and go so we just have to accept that fact...but, can there be 2 Sundays instead? Tee hee...
Today was another 'day out' for the 3 stooges [us!]. I had to return a dress I got last weekend because I didn't like the fit. I got another one and this time, it fits just fine...I think. The little one also got some scarves. Believe it or not Dad was the one that brought the scarves to her attention. What do you know...she came out of the store with 2 new scarves. I'm guessing it would be her 'new thing' now. She's already having fun with them as it is so I'm sure we will be getting more during our future trips to the store.
Anyway, have a great week ahead everyone! As Ellen likes to say at the end of her show...be kind to one another...